Description
Before I made this wooden box with lid I made more small decorative boxes of this model boxes before.
Whether or not belonging to a particular subject  like:
Eye Lash 
     "F"
    or "M"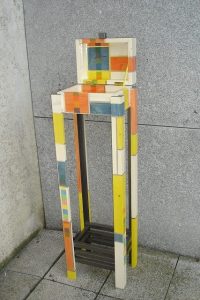 All painted with an abstract pattern because they were expressing a broader subject.

In this case I wanted to be more specific. Because of the length of the legs underneath the box I got the association with a spider.: small body and long legs.
I assume that one of the best known names of a spider in the world is that of the Black Widow. So this wooden box had to become expressing the image of what is known a dangerous spider, at least  for her lovers. If she gets the chance she eats the male after the copulation. It seems cruel, but it's nature that tells her to do her utmost to provide offspring. And the "father" of the offspring is also nutritious food who can help her accomplishing her task. So maybe this adjusts your notion about the Black Widow a little bit of being the spider just sitting in her cobweb waiting for food and kill her lovers.