Description
Human sculpture
This proud statue emerges from the manner of construction of the various parts.
Because of the elongated shape, with the head proudly upright and standing on a narrow point at the bottom, it is the expression of a dancer, a ballerina.
For the opposite form, look at the figurine Sad.
Human Sculpture-Ballerina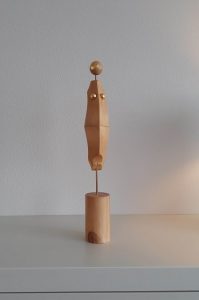 handmade human sculpture shaped as a proud ballerina who stands gallant on her toe tips in her gold-coloured ballet shoes, her head turned to the right.
Product Brand: Unicorn Creation
Product In-Stock: SoldOut