Description
Organic Sculpture Wasserschlange
Inspiration comes from all sides.
At the great exhibition of Gustav - Klimt, inspired by Van Gogh, Rodin, Matisse - in the fall of 2022 in Amsterdam also hung his painting Wasserschlangen 2.
When I looked at the main figure in the painting I immediately recognized in this the shape of cabinet legs with which I have already made several sculptures. 
Immediately there was the challenge of executing the seductive look of this painted nude figure in wood. 
With the somewhat contrived look from beneath a substantial head of hair looking at the viewer obliquely upwards. The shapely naked body with the creamy white skin.
Translating this from a two-dimensional image to a 3-dimensional organic sculpture.
Organic Sculpture-Wasserschlange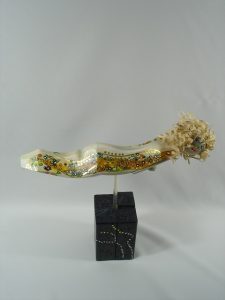 Organic sculpture inspired by Gustav Klimts painting Wasserschlangen 2. Construction of main figure and colorful background in wood, paint and gold leaf.
Product Brand: Unicorn Creation wood art
Product In-Stock: InStock