Description
Animal sculpture
Often when I make something I am also curious about the version in a different color or size.
This fair colored animal sculpture White Widow is the successor of the Black Widow, executed in black and dark colours.
I was aware of the existence of the Black Widow, but not of the White Widow.
When checking whether the White Widow was totally invented by me, it turned out to exist in real life.
And there is even a Red Widow!
Animal Sculpture-White Widow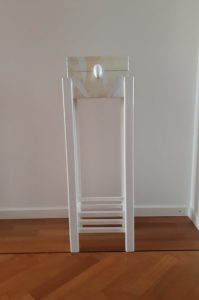 Animal sculpture of the spider the White Widow. Box to place on the floor. White painting and covered with white and yellow gold leaf and aluminum leaf foil.
Product Brand: Unicorn Creation wood art
Product In-Stock: InStock